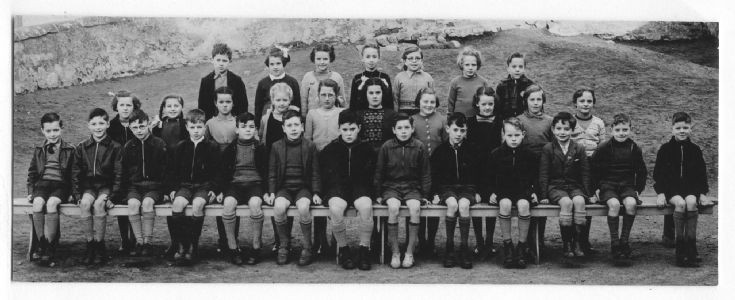 The Avoch Image Library
Alister Jack's schoolmates around 1955
Roderick Macleman,Ve Jack,Janice Smith,Isobel Reid,Mary Marwick,Sandra Mackay,Ali Jack,
Monica MacLeman,Eleonar Grant,Mary Jack,Anne .Valentine,Shona MacKenzie,June MacKenzie,Patsy Paterson,Barbara Patience,Mabel Adams,Annela Smith,
Charlie Goodal,George Brodie,Alan MacLeman,George Ross,Lewy Patience,Robert Jack,Hugh Jack,Jack Sutherland,Danny MacLeman,Jimmy Reid,Melville
MacKenzie,George William Skinner, Danny Brodie
This was a combined group of two classes taught by the very austere but very proficient Mrs MacAskill.
Where are we all today?
I am sending this from Japan, Roderick is in South Africa and Isobel is in New Zealand. How old are we all now? I will be 65 next week, born on the 4th. July 1945.
Picture added on 27 June 2010 at 13:15
Comments: